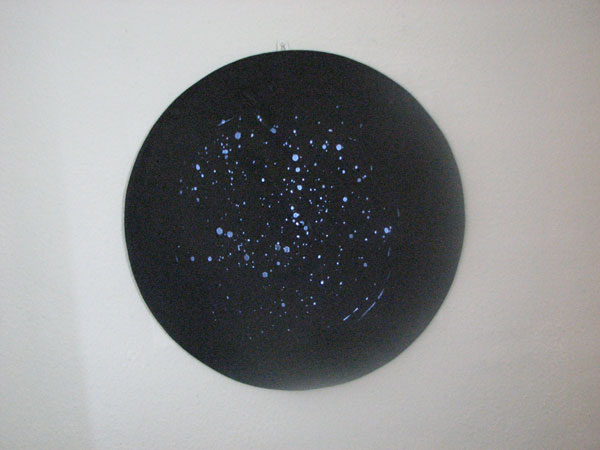 Monika Bobinska gallery is delighted to present Cosmic Mysteries at London Art Fair (12-17 January 2010) and Gallery Espacio Valencia (19 February-10 March 2010.
Cosmic Mysteries touches on the great existential mysteries - life beyond planet earth, dark matter, dark energy, the multiverse - through the haunting and often humorous filter of the practices of five original and compelling artists.
Alistair McClymont (MA Sculpture, Royal College of Art) will create a tornado installation (described by The Guardian as 'a piece of metereological magic') at London Art Fair. McClymont's diverse practice often sets out to investigate the romanticism with which contemporary cultural products have been invested, and incorporates drawings, videos, photographic work and installations.
Adam King, whose 'Pandamonium' installation for the WWF was recently featured in the windows of Selfridges, collects and appropriates objects and images which are then reconfigured to create strange and ambiguous forms and landscapes. His richly worked, yet 'low fi' collages are influenced by the 17th century age of discovery, and the creation of wonder chambers as a repository for the exotic and the strange.
Laura Morrison, who was selected for both Bloomberg Contemporaries and ARTfutures, considers the powerful and seductive techniques of visual language, and uses painting and sculpture to explore the resemblance of art making to the exercise of religious belief.
Alex Pearl's 'stargazer' films and projections attempt to recreate the feeling of staring into the night sky, and the sense of nostalgic wonderment it gives. His 'spaceship' drawings, films and small sculptures derive from his love of TV science fiction and the 'starview' - the screen shaped image of the cosmos as seen from the bridge of a TV spaceship.
Laure Prouvost's surreal fantasy world is both richly imaginative and outrageously implausible. Her complex works, spanning video, installation, sound and painting, draw us irrevocably into their confused illogical universe. Prouvost won East International this year, and her work will be featured in Art Now at Tate Britain in March 2010.
Cosmic Mysteries begins life at London Art Fair, and will then tour to Gallery Espacio, Valencia. Adam King is represented by Pippy Houldsworth and Alistair McClymont by Wyer Gallery.
For more information or images, please contact Monika Bobinska on 0786 606 3663.
www.monikabobinska.com
mail@monikabobinska.com
NEWS
The gallery is currently relocating to London E8 and will reopen in 2010
Correspondence can be sent to 242 Cambridge Heath Road London E2 9DA